Hybrid & Electric Ford Vehicles
at Goode Motor Ford
Want a vehicle that's fun to drive, boasts powerful emissions-free performance and offers agile handling? Head to Goode Motor Ford to discover an expansive Ford EV and hybrid lineup that includes a diverse range of vehicles. Plus, the experts at our Ford dealership near Idaho Falls understand everything about EV costs vs. gas cars, Ford hybrid mpg ratings and more, so you can buy a new vehicle or place a Ford custom order with confidence.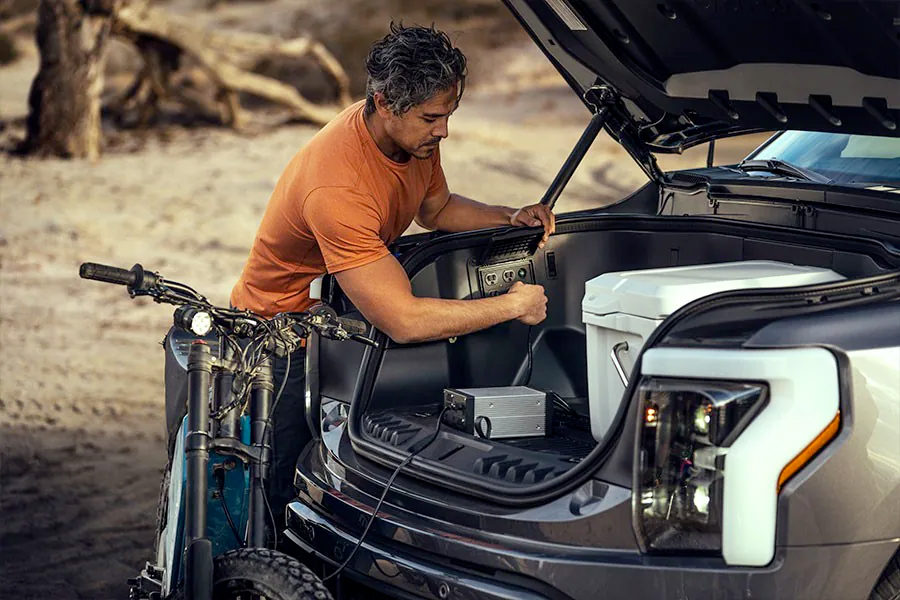 Buy a New Ford EV near Me
The new Ford hybrid and EV lineup continues to expand, giving Idaho Ford fans a greater selection to choose from. The F-150 Lightning is a new electric Ford truck that's earning plenty of recognition, while the Maverick is a Ford hybrid truck for sale in Idaho that's both stylish and durable. We also have new Mustang Mach-E, Escape Hybrid and select Explorer trims that are as efficient as they come.
What Are the Most Popular Ford Hybrids & EVs?
Some of the most popular Ford hybrids and EVs are: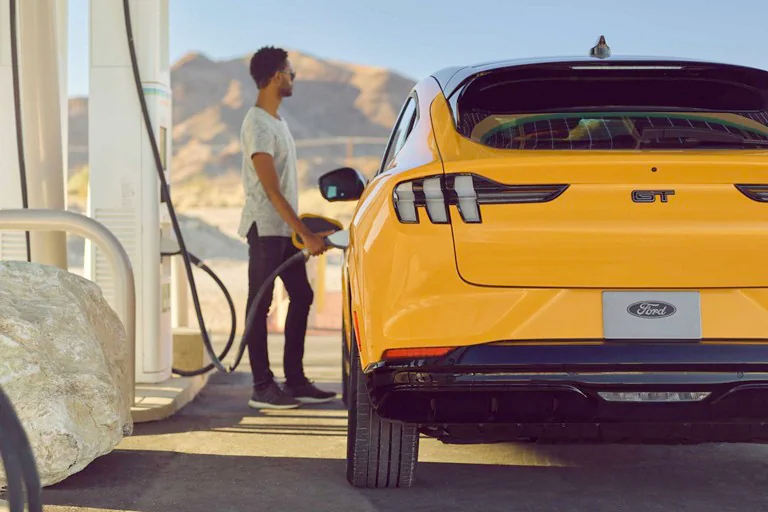 2022 Ford Mustang Mach-E
Try this sleek and all-electric Ford SUV on for size. The new Ford Mustang Mach-E has earned rave reviews among Idaho Ford fans for its efficiency and electrified performance that never compromises. For information about Mustang Mach-E charging times and range, or to inquire about Idaho EV tax credits and other incentives for going green, don't hesitate to contact Goode Motor Ford with questions.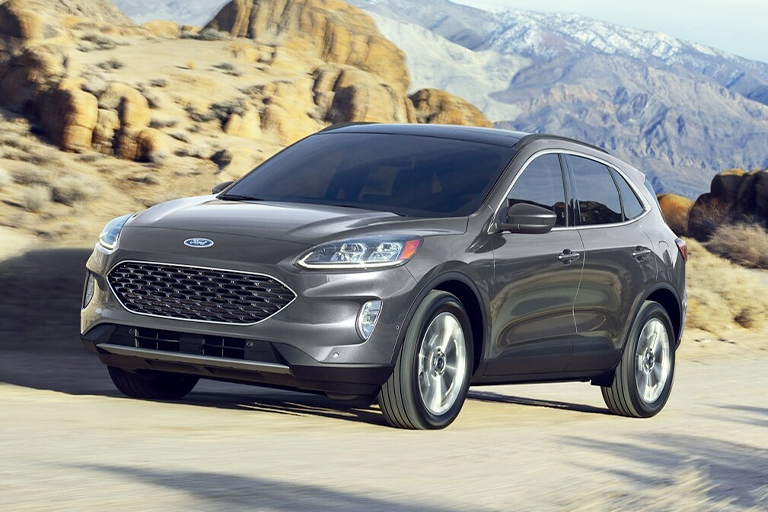 2022 Ford Escape Hybrid
Affordable, well equipped and fully hybrid, the new Ford Escape Hybrid includes a 2.5-liter I-4 Atkinson-cycle powertrain that's paired with an electronically controlled continuously variable transmission and a 96 kW electric motor. This pairing brings with it impeccable Ford hybrid performance and stellar mpg ratings, while inside the Escape Hybrid you'll find significant cargo space and comfortable options that make every drive more memorable.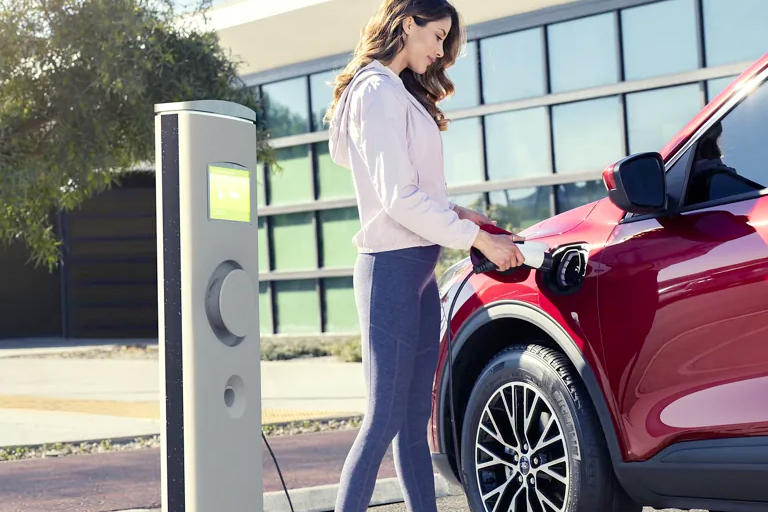 2022 Ford Escape Plug-In Hybrid
Taking the concept of the Ford Escape Hybrid one step further in terms of efficiency, the new Escape Plug-In Hybrid model has a Level 1/Level 2 AC charging point, allowing you to charge up and be on your way with fast Escape Hybrid charging times. This intelligent design stores the battery underneath the vehicle, freeing up cabin space and providing a more capacious and comfortable driving experience. Compare Escape SE Plug-In Hybrid vs. Escape SEL Plug-In Hybrid models with us!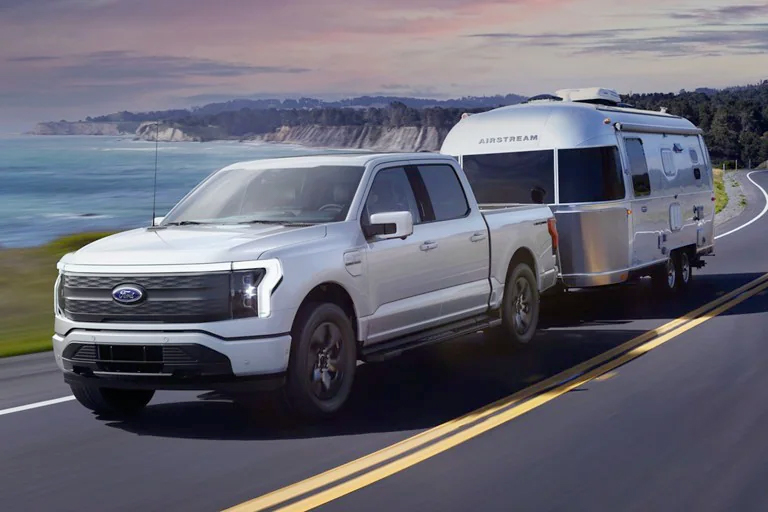 2023 Ford F-150 Lightning
Trucks offer more than just muscle, and the new Ford F-150 Lightning proves exactly that with its advanced electrified technology. Take to the streets in this electric Ford truck and discover all the joys of driving an iconic Ford pickup without needing to stop at the pump. Compare F-150 Lightning EV truck prices and take a test-drive today at Goode Motor Ford.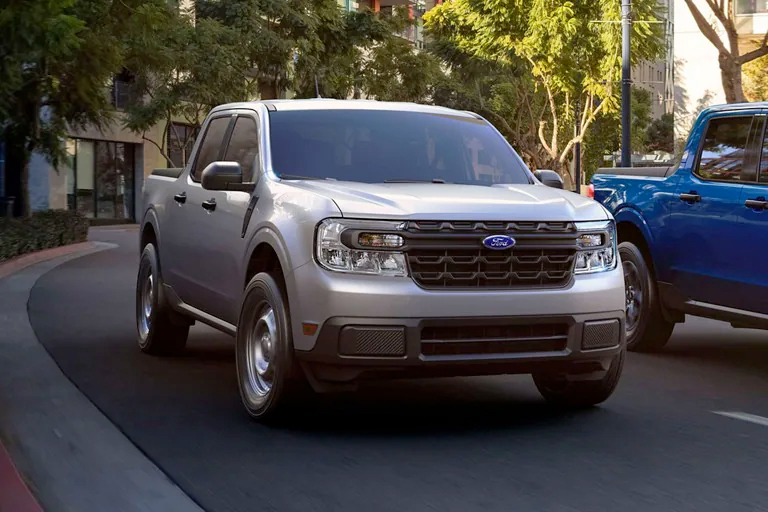 2023 Ford Maverick
The first-ever standard full hybrid truck in America, the new Ford Maverick excels in so many categories. Flexibility and convenience? Check. Fun to drive? Check again. The further you go down the list of 2022 Maverick specs, the clearer it is how special the Maverick hybrid truck from Ford is. So, if you want a hybrid pickup that delivers time and again with efficient and spirited performance, you know where to look.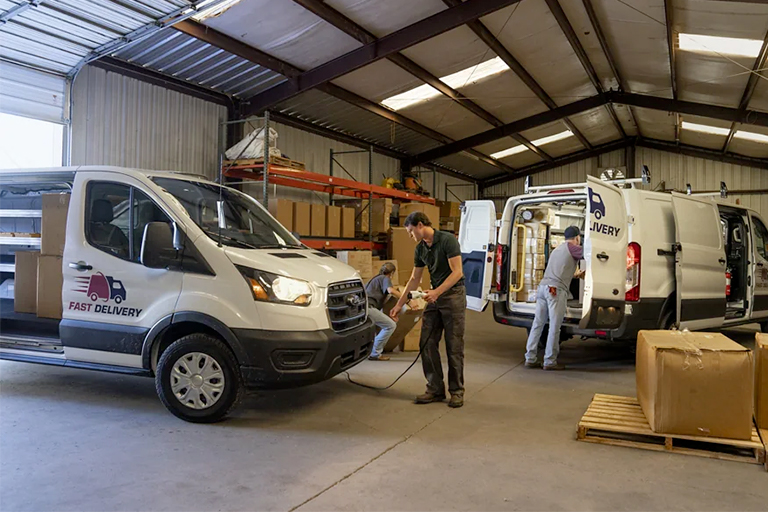 2023 E-Transit Van
Equipped with a fully electric powertrain and 68kWh battery, the Ford E-Transit Cargo Van is ready for whatever you plan on throwing its way. With three vehicle lengths and three different roof heights, the new Ford E-Transit configurations will surely please with their versatility. Built for Ford commercial drivers who are ready to enhance their business to the next level, E-Transit Cargo Vans will get the job done.
Frequently Asked Questions: EVs & Hybrids
Want to weigh the differences between hybrid and EV efficiency? Contact Goode Motor Ford and we'll answer all your questions about electric vehicle service, ownership costs and more. We want you to have all the knowledge you need to make an informed decision.
---
Federal EV Tax Credits
The Goode Motor Ford finance department is staffed with professionals who would be happy to provide a detailed breakdown of the EV tax rebates you can claim with a Ford electric car or hybrid vehicle. Buy a Maverick or lease an F-150 Lighting near Idaho Falls and claim federal tax credits down the line.
EV Charging Stations near Idaho Falls, ID
Whether you drive a purely electric Ford model or hybrid SUV, you'll either ditch gasoline for good or say goodbye to frequent stops at the pump. We can help you locate EV charging stations in Idaho and provide information on how to purchase an at-home Ford charging kit.
What Are the Costs of Owning an Electric Car?
Intrigued by a Ford Mustang Mach-E or E-Transit but aren't quire sure about the costs of EV ownership? The automotive professionals at our Burley Ford dealer can outline the cost difference between gas vs. electric cars and develop a detailed payment plan that fits your budget.
Ford EV Range Capabilities
Drive farther for longer periods of time thanks to impressive Ford electric vehicle range capabilities of models like the F-150 Lightning, Mustang Mach-E and more. For example, the Ford Mustang Mach-E range can extend to up to 314 miles, so you can enjoy your time on the road to the fullest.
Fuel-Efficient Ford in Burley, ID
If you desire a fuel-efficient Ford truck, SUV or car that runs on gasoline, rest assured that we have a quality assortment waiting for you. The Escape mpg ratings will leave you satisfied, while eco-friendly options like the new EcoSport and Edge provide a stellar overall driving experience.
Electric Car Dealerships Nearby
Whether you want to buy a new Ford EV we already have in stock or custom order a Ford hybrid in advance, you can do it all at our local car dealership. Save on gas, lower your auto service costs and reduce your carbon footprint with the eco-friendly Ford that's right for you!